Photo I.D. Tags

Our I.D. tag offers a combination of quality and value that is ideal for schools, sports teams, and personal gifts.

2 Side Printing
We can print your logo, team info, personal message, photos, ID info for your pet, etc.

A 30" bead chain is included.

U5588
Dog Tag, 1.125"x 1.875", (29mm x 48mm) Aluminum.



You can send photo(s) by email or U.S. Mail.

All photos will be returned unharmed

After making your purchase, please email me with your photo and text for your order.
send the info by email: tidaltalk@yahoo.com
Personalized
BABY NAME and FOOTPRINT
Photo ID DOG TAG Necklace, White Metal, 2 Side Print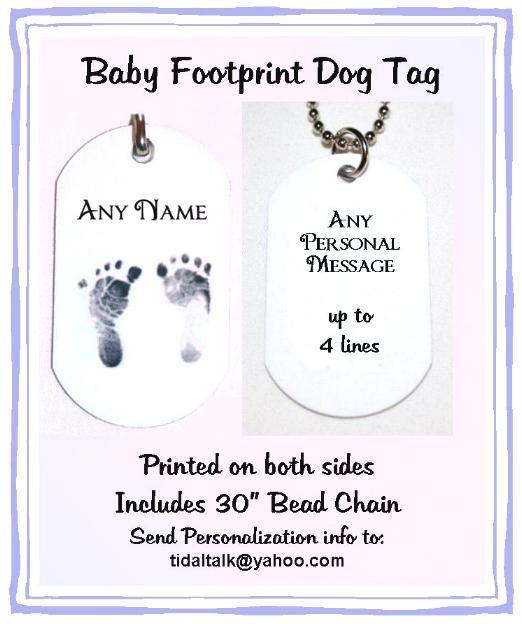 Includes a FREE 30" Silver Ball Chain -
which can be cut to any size.
Baby's Name and Footprints are permanently
heat imprinted onto the white metal Dog Tag

Printed on both sides.
Beautiful Gloss finish * Waterproof
Custom made in the USA by me

How to send your Personalization Info

Info needed:
1. NAME to be printed
2. Attach a copy of the Baby's Footprints to the email
3. Info to be printed on 2nd side of Dog Tag

If you do not have a copy of the footprints, I can use mine.
Just let me know.

After making your purchase, please email me your footprint graphic
and personalization info asap. I can't print & ship until I hear from you.

email: tidaltalk@yahoo.com

Use as a necklace or cut the chain and use as a key chain, zipper pull,
attach to your purse, or cell phone. Endless possibilities!

"Our job is to make you look good"
Our products are
customized for you,
are imprinted in
full-color, and include
photographs, graphics, logos, names, titles, and
other custom phrases,
No Set-Up Costs
No Minimums
Customer Service
Safe & Secure
We NEVER sell, barter, give, rent, or release your name or e-mail address to any other entity, party or organization. Period!
We respect your privacy!
PVC Birds Gone Wild

Chesapeake Coolers

Driftwood Junction